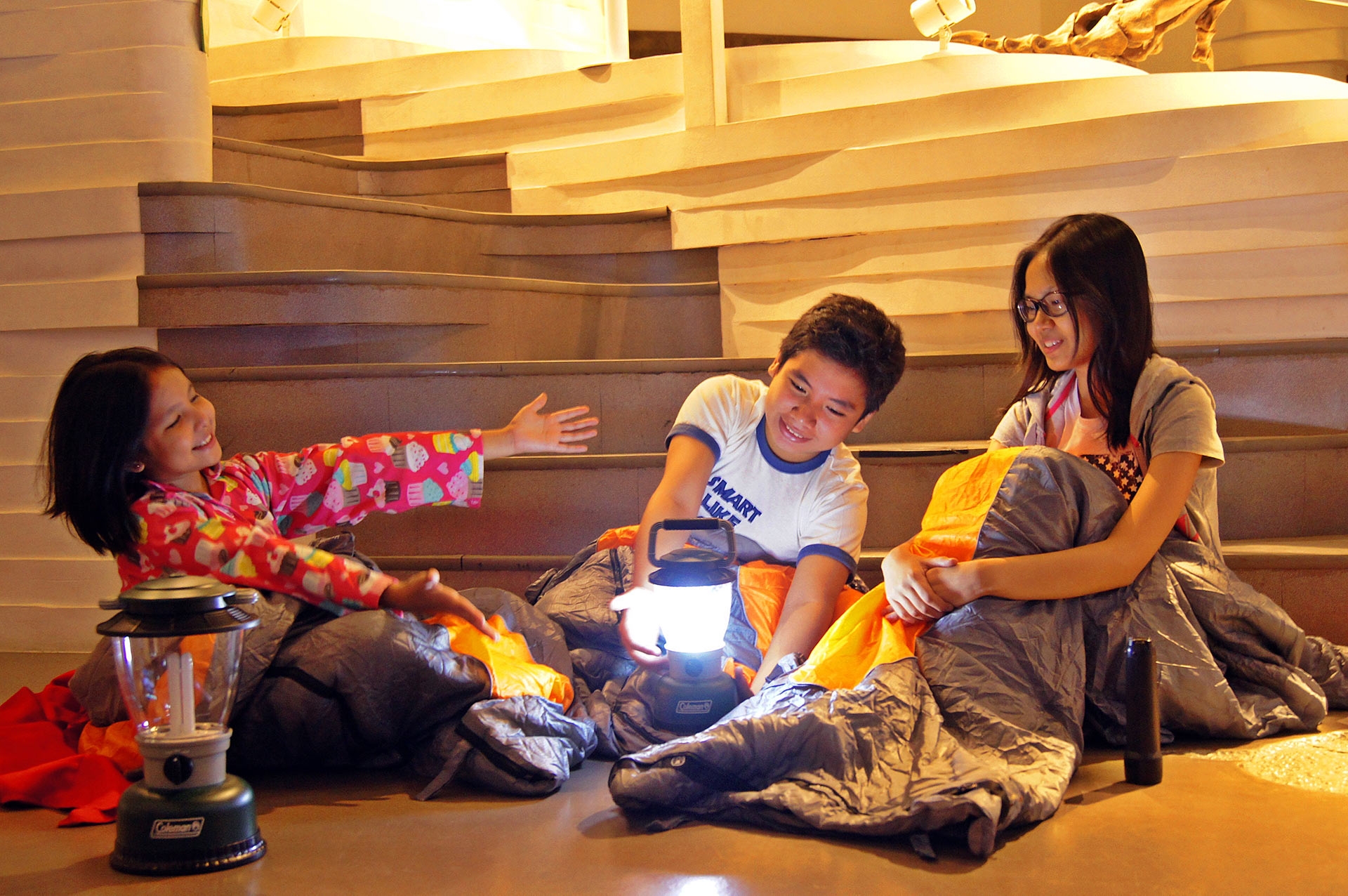 ON BREAK!
See you in the next Science Sleepover in Q3 2020!
Science Sleepover

Lights out! Spend an extraordinary overnight experience at The Mind Museum. Science Sleepover is a themed indoor slumber party designed for families and friends.
Program Details
Kids ages 13 and below must be accompanied by an adult. There must be at least one adult companion for every three kids below 13 years old.
DAY 1 - AUGUST 24, SATURDAY
5:00 - 6:00 PM
CHECK - IN
6:00 - 6:15 PM
Orientation
6:15 - 7:00 PM
Themed
Dinner
8:00 – 10:00 PM
Main Activity
10:00 – 10:30 PM
Settling down
10:30 - 12:00 MN
Movie Showing |
Lights Out in Sleeping Areas
DAY 2 - AUGUST 25, SUNDAY
7:00 – 8:00 AM
Packed Breakfast/ Wash Up
8:00 – 9:00 AM
Camp Out/ Awarding of Certificates
More Details

Where will we be sleeping?
You will get the chance to sleep among the museum's iconic and exciting exhibits. You can set-up your sleeping bag in one of the museum's galleries for an extraordinary slumber party experience! However, for an organized set up, The Mind Museum staff will be assigning your bed locations.

Who will be conducting the program?
The Mind Movers, the resident scientists of The Mind Museum, will facilitate all the activities in The Mind Museum premises (classroom, galleries, and Science in the Park).


Will parking be provided?
Yes, we will be providing one (1) parking coupon per group. Designated parking area will be determined upon confirmation of slot.

Can we bring food and drinks?
Meals (dinner and breakfast) will be provided but you may opt to bring light snacks with you.


Can we leave early?
We would appreciate your commitment to complete the program, but of course you may go if you have a family or health-related emergencies. However, you will not receive any certification if you do not complete the program.



Who will take care of my child's medical needs? What happens if my child becomes sick or injured?
The Mind Museum will have a dedicated first aid response unit during the entire program. The first aid response team will assess the injury or illness.
For specific health conditions, participants must bring their own medicines but must inform the camp staff.


How is inappropriate behavior handled?
Behavior that jeopardizes the safety and enjoyment for other participants will be dealt with accordingly. Rules and regulations will be discussed during the introduction. The Mind Museum reserves the right to manage and discipline all participants accordingly.


If I cannot make it, is the program refundable?
No refunds will be issued. However, you may nominate another participant to take over your slot, but he/she must meet the requirement of the program (age, etc).
How will you let us know about possible cancellations during the program?
We make every effort to make an announcement about program changes as quickly as possible. This will be done through email or by cellular phone. The Mind Museum reserves the right to cancel events that do not meet minimum enrollment, and/or pose risks due to severe weather conditions. If an event is cancelled by The Mind Museum, all patrons will receive full refund.