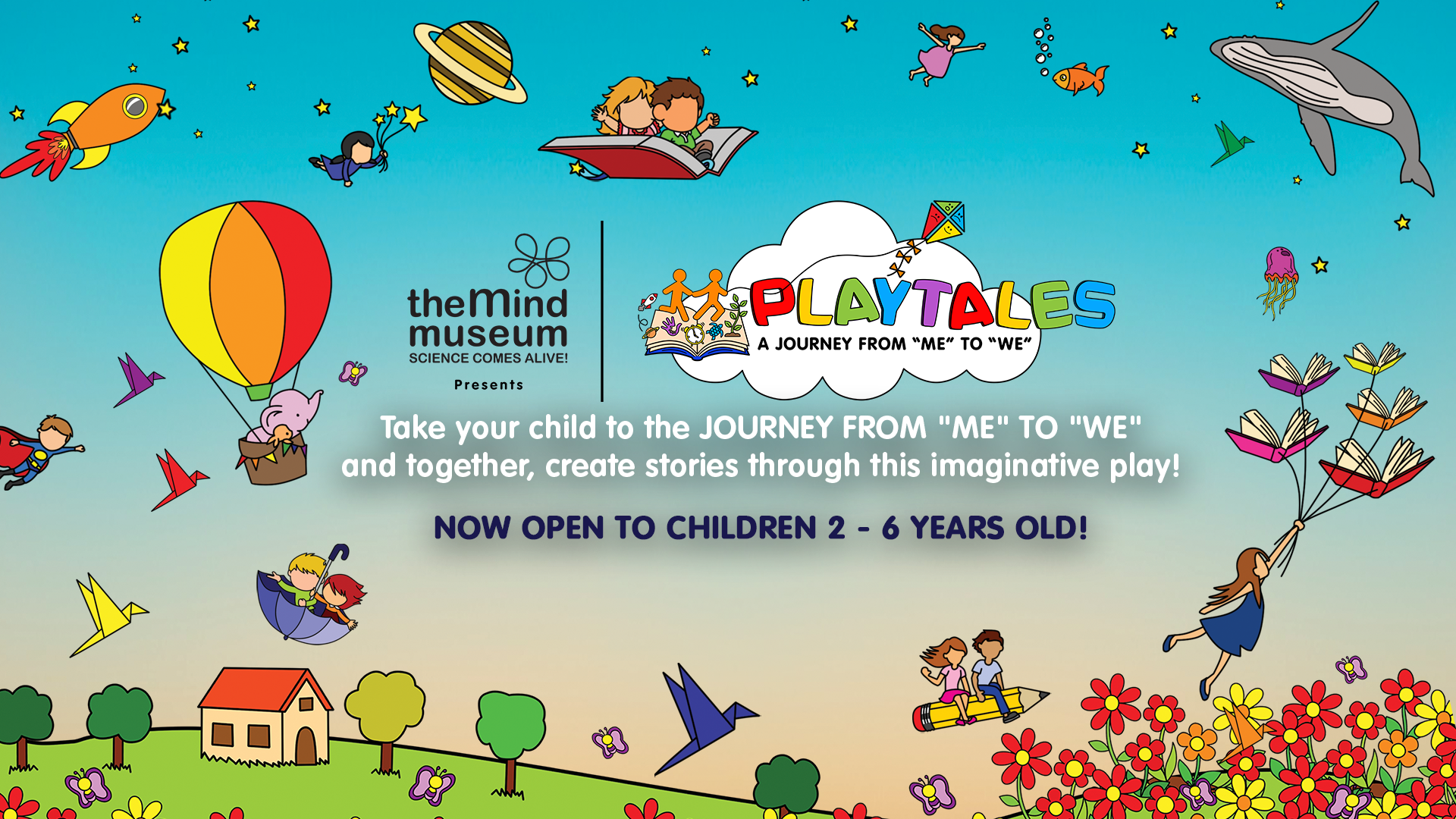 Playtales is a new exhibition conceived and created by The Mind Museum. It was especially designed for children 2 to 6 years old.

Early childhood is the stage of our lives that shapes how we see ourselves, how we connect with the people and things around us, and how it all comes together in the stories we tell each other.

This exhibition will playfully embark on a fun-filled journey tracing the steps in a child's journey from "ME" to "WE". The child, together with his/her adult will together discover the wonders of early childhood through the power of play, storytelling, and imagination through the various interactive exhibits!
So take your child – including your inner child! – on a colorful journey about children and for children. Explore Playtales, the latest special exhibition brought to you by The Mind Museum!

2nd Floor, The Mind Museum
09:00 am – 10:30 am
10:30 am – 12:00 pm
12:00 pm – 01:30 pm
01:30 pm – 03:00 pm
03:00 pm – 04:30 pm
04:30 pm – 06:00 pm
Open Tuesdays to Sundays (closed Mondays)
Entry to Playtales will be ticketed. Child & adult companion must have Museum tickets to avail of the Playtales add-on tickets.

| Playtales Ticket Type | Add-on Rates |
| --- | --- |
| 1.5 hours (ages 6 & below + 1 FREE adult) | +P150/child (ages 6 & below) |
| Additional Companion (ages 7 & up) | +P100/person |
| All-day Pass Upgrade (Museum Galleries & Playtales) | +P300/person |
| USP Members / All-day Pass (ADP) Ticket Holders (not applicable to gift certificates/discounted vouchers/promo tickets) | +P100/member/ADP Ticket holder |
WHO CAN ENTER
Kids 6 years old and below with 1 adult companion only
As this exhibit is made for the younger age group and the space is limited, we will prioritize entry of children 6 years old and below.
We encourage older kid companions to explore the Museum's 5 main galleries as there are more exhibits to explore that are more appropriate for their age.
Gallery