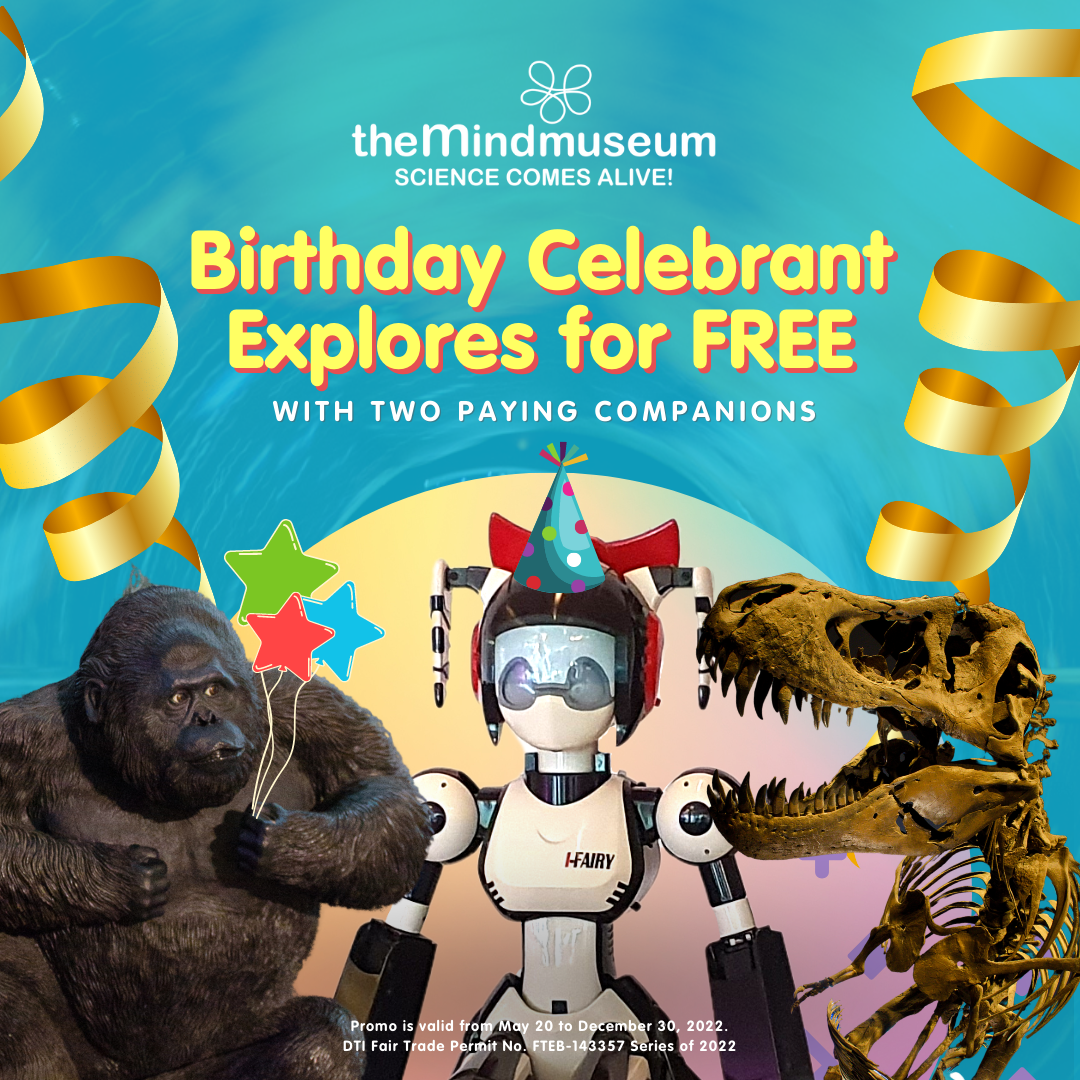 BIRTHDAY CELEBRANT EXPLORES FOR FREE
with at least 2 paying companions
FULL MECHANICS
Birthday celebrant must visit on her/his birth month with at least TWO paying companions (any regular ticket type) to get a FREE BIRTHDAY PASS.

Celebrant must present a valid government ID with picture and birthday indicated.

If celebrant does not have government issued ID, presentation of an original birth certificate along with a valid picture ID for verification will be accepted.

One FREE BIRTHDAY PASS for every two paying companions only.

Public School Student, Teacher, Senior Citizen, & PWD discounts are eligible as paying companion/s upon presentation of valid IDs.

All passes must be used on the same day & time slot.

Not in combination with other promo tickets or gift certificates.

The Mind Museum Operations Schedule:
-

Fridays to Sundays (closed Mondays-Thursdays)




-

Time Slots: 9am to 12pm | 12pm to 3pm | 3pm to 6pm



Promo is valid from May 20 to Dec 30, 2022 on the specified days only,

not applicable on closed schedules.
Guests must present tickets at the Museum gates prior entry.
Limited slots only. Guests are encouraged to book in advance.
Tickets sold are non-refundable/non-rebookable.
Paying guests must present tickets at the Museum gates prior entry.
All ticketholders must comply with IATF Guidelines, and Museum Terms and Conditions.
Employees of the Bonifacio Art Foundation, Inc. and their relatives to the second degree of consanguinity & affinity may not avail the promo.
DTI Fair Trade Permit No. FTEB-143357 Series of 2022
PLAYTALES NOW OPEN FOR FREE
for Museum Ticket Holders 6 years old & below
TICKETS
FREE for Museum ticket holders
Enjoy this free introductory offer for SMALL groups with children 6 years old and below.

Entry to Playtales is valid within the Museum ticket holder's schedule. Guests will be asked to exit once their time slot has ended.

All-day Museum Pass holders get to explore this exhibit the whole day, with no time slot restrictions.
WHO CAN ENTER
Kids 6 years old and below with 1-2 fully vaccinated adult companion/s only
As this exhibit is made for the younger age group and the space is limited, we will prioritize entry of children 6 years old and below.


Playtales passes are given at the information booth.


All ticketed guests are required to wear face masks while inside the Playtales exhibition.